News
Stroke Association and Buzz Bingo launch partnership
The Stroke Association and Buzz Bingo are today sharing results from a joint survey as they announce a three-year partnership.1 Together, the organisations aim to help more stroke survivors rebuild their lives by tackling isolation and loneliness after stroke.  
Almost three quarters (73%) of stroke survivors spend less or no time socialising with their families and friends since their stroke, highlighting the devastating and often hidden social impact of stroke. Moreover, four out of five (83%) stroke survivors spend less or no time on their hobbies and four in five (79%) have given up a hobby altogether.
There are around 100,000 strokes each year and there are 1.3 million stroke survivors in the UK2.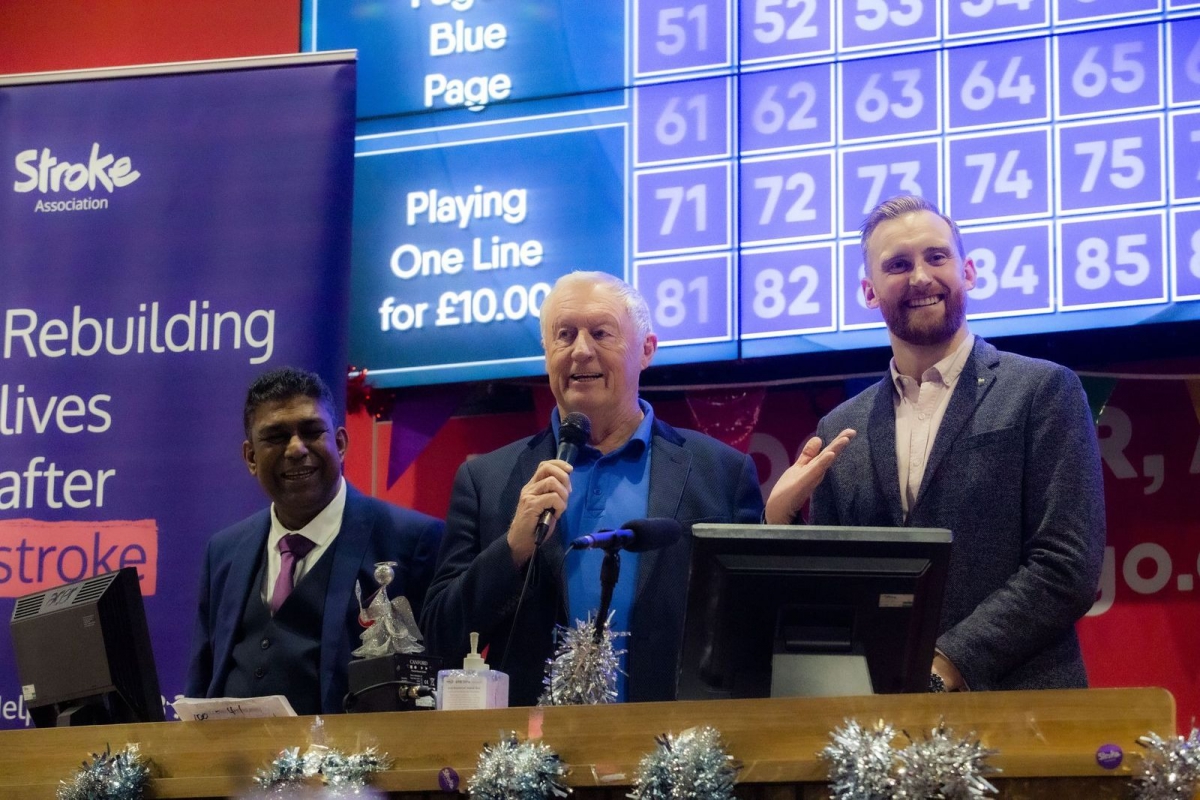 Image: Chris Tarrant, Toby Tarrant at Stratford branch of Buzz Bingo
The survey of stroke survivors* in the UK also reveals: 
Almost three quarters (74%) of stroke survivors experience tiredness and fatigue since having a stroke
 Over half (52%) of stroke survivors say they have lost their confidence since their stroke and around a third (32%) have experienced changes to their personality
Around one in four struggle with their mental health (26%) and/or feel lonely/isolated (23%)
Before their stroke around a third engaged in a hobby daily (38%) or 3-4 times a week (31%). Popular hobbies pre-stroke included exercising, reading, gardening and watching TV
Spending less time or giving up a hobby has left many stroke survivors feeling a loss of confidence (29%), a lost sense of purpose and identity (24%) and impacts their well-being (23%)
Over a third of stroke survivors (40%) would like the chance to socialise more since their stroke and to go to clubs and societies
For Tracy Hughes, 52, from Manchester, her stroke meant she had to give up her hugely fit, active and social lifestyle.

Tracy, who was 46 at the time, attended British Military Fitness classes four times a week but sadly it was at one of these classes when her stroke struck in 2016.

Tracy said: "I was at BMF in a park at Leeds, when I started feeling funny and the floor looked blurry. I sat down and my whole left hand side went weak and I started slurring her speech."
Thankfully, being at an organised event, paramedics were nearby and suspected Tracy was having a stroke. After attending hospital and confirming this, doctors gave Tracy Thrombolysis drugs to address the blood clot. She went on to spend five days in hospital in Leeds and later Manchester.

"It was quite surreal coming out of hospital, I had no idea what was going on, I was confused as to what had happened."
Tracy was still very weak on the left hand side and had to have support to walk. Her speech was still slurred which took a short time to come back and she spent most of the days resting.
Despite feeling lucky in her recovery, it was the loss of attending BMF and the social life this gave her that has had the biggest effect on Tracy and her mental health.
Image: Stroke survivor Tracy Hughes
Tracy said: "I had made a load of friends at BMF, we were a family and doing exercise made me feel so good. I was someone who did a lot of exercise but then I just couldn't do what I used to. The coaches always want me to come back but I know the pace is now far too much for me. I still think about the classes all the time and I want to go but my body just lets me down – that's really affected me mentally."
While Tracy's recovery is ongoing she has now discovered weekly Bingo with her daughter and now uses a personal trainer in the gym who understands her ongoing challenges.
"Bingo has really been a god send, it's my night out. Me and my daughter now go which is my 'me time' and we really enjoy It.
"I also now have a PT who knows me really well and he knows what I'm capable of and what I can't do. I struggle with it even though I really want to do it. Some days I really don't want to get out of bed, it all depends on how I feel mentally but I'm persevering."
Saul Heselden, Head of Corporate Partnerships Stroke Association, "Stroke strikes every 5 minutes in the UK and changes lives in an instant. Stroke has many impacts, some are visible whilst others are hidden, but the effects are equally devastating and can become obstacles to recovery.  Many stroke survivors stop seeing family and friends or are forced to give up their hobbies, this may be as a result of struggling with their confidence or mental health or due to fatigue.  Socialising and enjoying previously loved hobbies are really important to mental health after a stroke. Without this stroke survivors can lose their confidence, hampering their well-being and potentially leaving them without a sense of purpose and identity.
"We are excited to announce our new partnership with Buzz Bingo which will help to raise vital funds for much-needed specialist support, research and campaigning and will go a long way in supporting more stroke survivors like Tracy to live the best possible life after a stroke."
As part of the partnership launch Radio and TV legends and father and son duo, Chris and Toby Tarrant hosted an exclusive Bingo event for stroke survivors. Chris' life was turned upside down when he had a stroke in 2014.
The brand new Loaded bingo event took place on Tuesday 6th December, Buzz Bingo, Stratford, London. The night brought together stroke survivors and members of the public for an unforgettable evening of traditional bingo, musical bingo, quizzes and prizes.
Mark Fletcher, Head of Brand Communications, Buzz Bingo said: "We are delighted to be partnering with the Stroke Association and to help raise awareness of the isolation and loneliness many stroke survivors experience.  Socialising with family and friends or in the community can be daunting following a stroke so we're pleased that Buzz Bingo clubs can offer a welcoming, friendly and accessible environment for stroke survivors to take that first step to feeling part of a community, regaining confidence and helping rebuild their lives.
"Over the next three years we aim to raise £200,000 for the Stroke Association, through special events and fundraising initiatives, like our specially hosted event with Chris and Toby Tarrant. As part of the partnership, we will also be working closely with the charity to provide volunteering opportunities for our colleagues  and train them to better understand stroke and its impact."
Chris Tarrant said: "Eight years ago, completely out of the blue I had a life-changing stroke. It was incredibly frightening and it made me realise how fragile life is. I know how scary and tough life after a stroke can be, so I was shocked to learn that so many stroke survivors spend less time with their loved ones and many have given up their hobbies.  Having the support of my family and friends was crucial to my recovery and spending more time on the things I love really helped my well-being. I'm so grateful to have had such fantastic love and support from those close to me but I know this isn't always the case for everyone, which is why I would encourage you all if you can, to find your passion again or enjoy a new hobby." 
The Stroke Association provides specialist support, funds critical research and campaigns to make sure that everyone affected by stroke gets the support they need to rebuild their lives.  Buzz Bingo Clubs bring stroke survivors together in a safe, warm and fun environment so they can rebuild their confidence and recover after a stroke. Visit https://www.stroke.org.uk/buzzbingo to find out more. 
For more information, please contact Sokina Miah, PR Manager at the Stroke Association, at sokina.miah@stroke.org.uk or 020 7566 0337