Articles
BINGO♥Variety
As many Bingo Life readers will already know The Bingo Association has been supporting Variety the Children's Charity since 2015, with amazing success, thanks to the support and hard work of bingo operators, club staff and the amazing generosity of bingo players up and down the country. The hard work and generosity has brought the total raised to date to over £1.3 million – a staggering amount of money!
Following such a successful and popular fundraising campaign, the Association has committed to supporting Variety for a further year, until the end of 2019, and is now looking to fulfil its pledge of raising a further £250,000.
The main fundraising week has been set for the week of 2nd September, however many operators and clubs undertake a wide range of fundraising activities throughout the year. The Variety team are on standby to help clubs with ideas and to support them throughout the year: participating 
clubs can contact Danielle Roche at Variety (e-mail: danielle.roche@variety.org.uk) for more information and ideas about fun fundraising activities and events.
During the main week there will be a Bingo Loves Variety MCB Linked game, which independent clubs can take part in: Mecca and Buzz will be managing their own company fundraising mechanisms, which will make a great contribution towards the Association's target.
The contributions of all member clubs are hugely significant, as without this the Association would not achieve such an amazing fundraising total.
On the open road – Variety Sunshine Coaches
Over the past four years, the fantastic charity partnership between The Bingo Association and Variety, the Children's Charity, has been life-changing for organisations as well as disabled and disadvantaged children across the county.
Thanks to the generosity of The Bingo Association, Variety has been able to supply 25 much-needed Sunshine Coaches to schools and organisations in need.
The Bingo Association is delighted to announce that thanks to the continued support and generosity of operators, club staff and bingo players, they are able to sponsor a further three Variety Sunshine Coaches to special needs schools in Leeds, Wolverhampton and Newcastle:
Broomfield School, Leeds
Broomfield School is located in a severely deprived area of Leeds and caters for children up to 19, covering a range of disabilities including autism, wheelchair users and young people with complex medical issues. There are 211 children at the school, with plans to increase intake to 220. There are 143 staff and the staff/child ratio ranges from 1:1 to 3:1 depending if on or off site. Their specially adapted Sunshine Coach was presented to them on Thursday 23rd May and will be used every day to provide residential and educational visits, as well as give greater access to play schemes, trips, sports and music activities.
Sir Charles Parsons School, Newcastle Upon Tyne
Sir Charles Parsons School is a special school that provides care for 182 students aged 11-19 years of age with profound and complex learning difficulties. A significant number of students have mobility issues and 26 are wheelchair users. The specially adapted Sunshine Coach was needed to replace their 16-year-old minibus, which had finally reached the end of its useful life. The new minibus was presented to the school on Wednesday 22nd May and will be used extensively every school day, as well as during the holidays and for after-school clubs. It will be taking students on residential and day visits, summer camp visits to the coast, curriculum visits to art centres, other schools for competitions /matches, and to work experience opportunities, college visits and courses.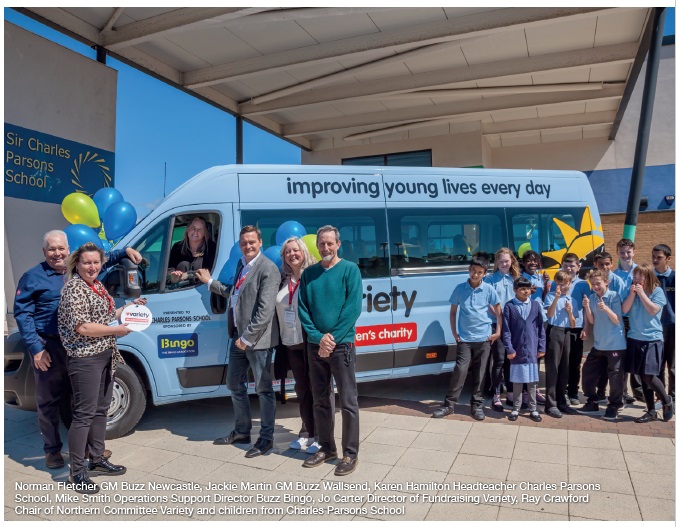 The Lawnswood Campus, Wolverhampton Friday 28th June 2019
The Campus is home to four Pupil Referral Units (PRUs) serving schools and the City of Wolverhampton. All four centres aim to work with students who find mainstream schooling a challenge and provide opportunities to help them make their next steps more positive. They have two Sunshine Coaches, and an additional one is needed so they can provide a vital transport link for some of the most vulnerable pupils with their centre. The minibus is due to be presented to the Unit on Friday 28th June and will be used every day including visits to outdoor education projects, The Duke of Edinburgh`s Award and National Trust visit. The coach will provide the children with many new opportunities to connect, enjoy and care for wild places through outdoor activities.
The minibus presentations also give the Association an opportunity to invite local bingo clubs who have been part of the fundraising along, enabling them to see first hand where funds raised in their clubs go, the impact they make and to meet some of those who will benefit.
On the ball – Annual Charity Golf Day and Dinner
The Bingo Association's annual charity Golf Day took place on Thursday 6th June and returned to The Celtic Manor, South Wales. This is a great event for Association members, suppliers, golf fans and their guests, whereby more funds were raised for Variety and the day's play celebrated, with awards presented after dinner. Full results can be found on The Bingo Association website.
Celebrating 70 years of Variety.
This year, 2019, is a big year for Variety, the Children's Charity as they celebrate their 70th Anniversary.
Variety was launched in the UK in 1949 with a dinner at The Savoy Hotel attended by HRH, The Duke of Edinburgh and film moguls, agents and celebrities eager to donate their time and talent to help raise funds for children who were in need.
Since then, more than £270 million has been raised by Variety in the UK. It has funded 5,000+ Sunshine Coaches, almost the same number of wheelchairs, provided thousands of grants to individual children and life-saving support for children's hospitals, hospices and youth clubs. In addition, each year tens of thousands of children are taken on great days out by the wonderful Variety Great Days Out team.
Every single day Variety does all it can to improve more young lives.
More details about how Variety will be celebrating their 70th birthday will be announced later in the year, with details shared through social media: @VarietyGB
Originally Published in Summer 2019 edition Bingo Life