Articles
EAG 2021 Goes Online
Bingo Life Interview with Martin Burlin, EAG Chairman
In January 2020, the Entertainment, Attractions and Gaming International Expo (EAG) celebrated its 10th anniversary as a successful must-attend event at the very heart of the amusements and entertainment industry, attracting participants from around the globe.
Wind forward just a few months and with the global Covid-19 pandemic wreaking havoc with lives and businesses, bacta, the show's owner, has been focused on seeking alternative ways of supporting the industry in a safe and effective way. Early in November, it was announced that EAG will take place from 27th-28 January 2021, but as an online event.
Bingo Life caught up with EAG Chairman Martin Burlin for a chat about the show's new format and what it will mean for its participants: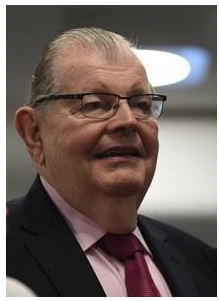 What was behind the decision to move the EAG show online? Would it not have been simpler to skip one year and come back in force in 2022?
Our industry is essentially about bringing people together for a good time and, as a result, has been hit incredibly hard by the global pandemic. Fewer customers, enforced closures and increased costs have created a perfect storm, with many businesses now fighting for their very survival.
EAG is a show that is owned by the industry it serves and has become a pivotal fixture in the industry calendar, with thousands of visitors coming to experience the latest products and to exchange ideas and discuss experiences with fellow professionals. We see it as our responsibility to continue to support the industry, albeit in a different way.
To move a large vibrant show into the 'virtual' world at relatively short notice must have presented a challenge. How have you fared?
I won't pretend that it hasn't been a very steep learning curve but we've brought in professional expertise and have been supported by some of the very best; the platform on which we will run the event has been deployed successfully on hundreds of large events. Our exhibitors have shown great flexibility and a willingness to embrace new ways of doing things. Clearly, the brave new virtual world cannot compete with the live experience, but it does hold some opportunities and advantages for all our participants.
Can you give an indication of how EAG Online will look?
The expo site will contain most of the elements of the traditional show. Exhibitors will have virtual 3D stands which can be visited. It will be possible to view product images and video and to directly contact staff members, either by email or Live Chat.
We will also maintain the EAG tradition of a comprehensive and topical seminar programme, with registered participants being able to question speakers via text chat.
Bacta will host a virtual lounge offering an open chat forum via text and for video groups of up to 8 participants.
What has been the reaction from Exhibitors?
Overall, it has been positive. Some of our exhibitors have admitted that it will be a leap into the unknown because the online event will require a very different sort of preparation. Our industry has a tradition of embracing change and, of course, many of the exhibitors will be technology-driven businesses. Exhibitors will be issued with detailed exhibitor packs and the Swan Events team will be on hand to answer any queries.
You mentioned earlier that the online format will bring some new opportunities and advantages. Can you elaborate on this?
Probably the most significant advantage is the lower cost of participation. We never lose sight of the fact that for our exhibitors, the cost of the exhibition stand, shipping of products along with staff travel and accommodation is a major commitment. A virtual stand can be created for a small fraction of this cost. Contact between exhibitors and visitors through meeting bookings and live chat is much more structured and can be very targeted, with the ability to prioritise the most important enquiries.
What will be of interest to the Bingo operator?
EAG International has always been a good proposition for any leisure operator looking to drive income whilst reducing costs. For today's Bingo operator there will be a selection of contactless payment systems and associated reporting software. The latest gaming machines for UK Categories B3, B4, C and D will also feature, along with tablet-based products and a wide selection of consumables.
The EAG team is clearly working hard to make EAG Online a success. Do you see this as a possible format for future EAG expos?
Ours is a sociable and hands-on industry. Buyers want to touch and feel the new products on display. This holds true for almost every product from prize merchandise and plush, right through to the very largest immersive games. Essentially, they need to experience what their own guests and players would experience.
The lively spontaneous debate that takes place at our seminars and on the show floor would also be difficult to achieve in the structured online environment.
EAG has traditionally offered great networking and this happens at many levels. For many, the numerous social events are very important – a chance to catch up with colleagues and old friends. Many of these relationships stretch back across the generations. So no, in my opinion EAG International is about its people; the face-to-face element is the essence of the show and we look forward to being able to return to this in a safe environment. Unfortunately, we are not yet at that point so I would urge everyone to participate in the event in its current form.
How will you measure the success of EAG Online?
That is an interesting point. It certainly will not be in monetary terms as we have been determined to kept participation costs to the absolute minimum. At a live show you can walk the floor and learn a great deal from exhibitors and others. Because EAG is a show put on by the industry for the industry, its participants are already involved in formal review and determining the future direction of the show. The event platform will also generate a wealth of information about participation and visitors to the EAG Online event will have the opportunity to leave feedback on their user experience via the website.
EAG Online will take place from 27-28 January 2021  10.30 – 16.00 UTC
For more information and details of how to participate, visit www.eagexpo.com

Image: Martin Burlin, EAG Chairman