News
MECCA BINGO TO RELAUNCH LUTON CLUB, REDEFINING THE FUTURE OF BINGO
Monday 1st November: Mecca Bingo announces it will be relaunching its club in Luton this December, which is set to redefine the future of the UK's original bingo brand, enticing new and existing customers to experience the unexpected as a new surge of bingo fans have taken to halls since reopening in May.
As part of a wider rebrand created by design partners Keane Brands, Mecca Bingo is coming back to Luton with a new modern look and feel, an enhanced bingo experience both in club and online, as well as a wider selection of live entertainment nights, bands, bottomless brunches and pop-up partnerships. This relaunch will open the doors to Mecca's most vibrant venue yet and offers bingo fans the chance to experience the new and the unexpected as the much-loved brand celebrates its 60th birthday.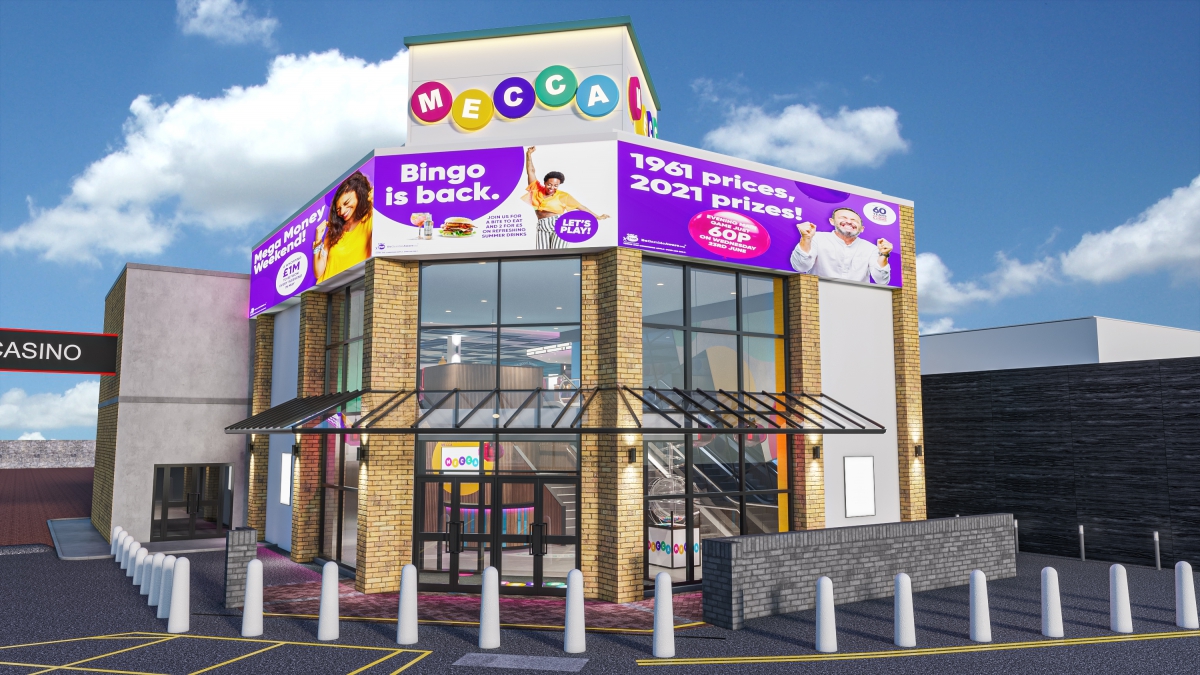 New core games will be added to the daily line up offering more ways for bingo customers to win, creating even more winners. Mecca is also revisiting the meaning of bingo entertainment, including Gin & Jazz Sunday, Bonkers Bingo, DJ Sets and Brunch events - making the whole experience bigger - hailing the experience as 'bingo and beyond'.
General Manager Tim Perry, said: "As part of Mecca Bingo's rebrand, we have committed significant time and investment in reconsidering the meaning of bingo within the entertainment industry and what customers want. That is a truly immersive experience, providing our guests with everything that bingo has to offer and going beyond what they expect. We are excited to launch our club in Luton, which is a brand new experience, taking bingo entertainment to a whole new level."
The club's relaunch will also boost job prospects in the area, as Mecca Luton is recruiting for a number of positions including kitchen and floor team members and bingo callers.
To launch its Luton campaign and generate more excitement, Mecca will be making lots of noise in Luton in the lead up to the relaunch. Just this week Mecca has taken over a regular Luton Arriva bus, transforming it into a bingo bus and offering Luton residents a very different commute to work or trip to the shops. People of Luton can expect more surprises to come ahead of the big opening, to provide teasers of what the future of bingo is going to look like.
With Mecca Bingo seeing promising footfall numbers since reopening its 70 venues in May 2021, the brand is investing heavily in the entertainment experience across its venues, with Luton being at the heart of that evolution.
Mecca Luton will reopen its doors in December. For more information and updates, keep an
eye on the club's Facebook page.
About Mecca Bingo
Owned by the Rank Group Plc, Mecca Bingo is one of the largest Bingo and Slots operators in the UK.
Mecca provides entertainment across its UK wide venues as well as online which includes free to play as well as paid games, plus bingo rooms that raise funds for charity partner Carers Trust.
Mecca Bingo has a firm commitment to safer gambling with a range of tools and support services to ensure that customers can always keep it fun. These include deposit limits, reality checks and take a break as well as direct support from the customer care team.
For further information on retail venues and online play go to: www.meccabingo.com
Rank's operations principally comprise:
Grosvenor Casinos – The UK's largest multi-channel casino operator.  52 casinos in Great Britain;
Mecca – Rank's multi-channel community-based gaming brand for the British market.  72 bingo clubs in Great Britain;
Enracha – Rank's community-based gaming business for the Spanish market.  Ten bingo clubs in Spain;
Rank Interactive – Rank's UK digital business operates a multi-branded strategy, using a combination of its proprietary and non-proprietary licensed software to provide online bingo, casino and slot gaming; and
YoBingo – A leading online bingo operator in Spain.
For more information about The Rank Group Plc, visit www.rank.com