News
BIJOU BINGO; UK'S SMALLEST BINGO HALL OPENS IN HACKNEY
When you think of traditional bingo, you might conjure up draft the old bingo halls with rows of people, heads down as they listened to the rather dull commentary from the caller at the front.
Since Dabbers Social Bingo launched its first venue in London's East End in 2018, its approach has always been to offer a cooler cosier more bespoke approach to modern day bingo; with Dabbers, gone are the days of dusty old hosts mumbling "two fat ladies - 88" into the microphone - Dabbers Social Bingo reinvigorates an iconic British pastime, replacing cups of tea with cocktails and bingo callers with hilarious comedians, dancers and sassy drag artists - and mixing up old skool bingo calls with new jargon.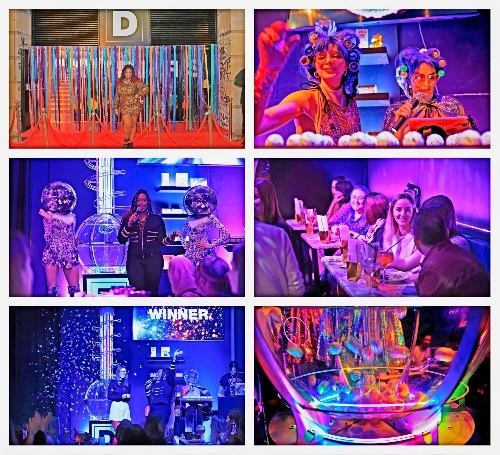 Now dabbers is set to open brand-new bingo hall in Hackney. This luxury boutique venue will have the honour of being the U.K.'s smallest bingo hall, offering revellers a compact and classy night out.
Dabbers second location will be located at Mare St Hackney and will open to the public today, Friday - 18th November. 
Based on the top floor of the Hackney Picture House, the space has been transformed into an 85-seater bingo hall with a choice of social, theatre and booth seating, with a back bar of just 48sqm and a main bingo hall and bar area of just 120sqm.
Open Tuesday to Sunday with a 6-7pm happy hour on Tuesdays, and the opportunity to indulge in a Hackney-themed lunchbox on Saturdays and Sundays and bar snacks alongside cocktails, spirits and beers.
The venue's new schedule includes the brand-new Dabbers Social Bingo Club; exclusive to Hackney and designed with awareness of so many people facing current cost-of-living challenges, this community focussed show designed to run at-cost for Dabbers, with no profit margin. Running every Tuesday, Dabbers Social Bingo Club will have all the glitz, sass and flamboyancy of Dabbers Bingo extravaganzas but offers discounted entry and half priced drinks. Dabbers have specifically created this night with the aim of bringing a much-needed fun evening out to those on a careful budget. Creative Director Jonny Unknown says of the endeavour "Our Social Bingo Club will not be means tested, you do not need to *prove* that you'd struggle to afford a full price night out order to be allowed in. But we really hope that people will respect the spirit of what the event is all about – so if they are able to budget for our other nights, they leave Tuesdays open to those who could really benefit from a great evening at a heavily discounted price." 
Also exclusive to Hackney, the Bow Bells Bingo on Saturday afternoons brings an East London experience, complete with cockney rhyming slang bingo calls. Hosted by a Hackney local whose mother tongue has always included a wide range of cockney lingo; expect an immersive bingo show, theatrical cocktails, bangin' tunes and hilarious prizes. Pro tip? Make sure to arrive when the doors open to soak up the bottomless bubbles and disco vibes before the bingo show begins. 
No respectable East London experience would be complete without a tasty snack, or two. Here Dabbers bring a modern twist to their Hackney-inspired lunchbox, to enjoy a selection of fresh bagels, Pearly Kween oyster inspired cocktails and in a blast from the (Hackney) past meets the food of the future – vegan pork pies, vegan jellied eels with a twist and Espresso Martini milk bottles.
Sundays in Hackney will bring Sunday's a Drag hosted the legendary Kate Butch; The most outrageously fierce bingo Show in the East End. The weekly celebration of all things drag will bring top London DJs and sensational Drag Queen hosts, taking audiences on an interactive bingo journey. Whilst the teams are dabbing their afternoon away, they'll be entranced by shimmy-worthy disco balls, simply fabulous tie-breaker challenges, and a healthy amount of sass. Audiences can also entertain their taste buds whilst the show kicks off on-stage with tantalising tipples, Hackney-inspired snacks and bottomless bubbles.
Speaking about the opening Creative Director and Founder Jonny Unknown said: "The hospitality industry has been, and continues to be, one of the sectors hit hardest by and post pandemic. I'm so grateful to everyone who was with us through the virtual shows and continues to keep the party going IRL. Dabbers was started not only to repurpose and modernise the beloved game of bingo but also create an inclusive, sociable, accessible and entertaining community hub. When we found this brilliant venue, the idea of creating the UK's smallest bespoke, bijou bingo hall was just too appealing to pass up. So it's with great happiness for myself and the team to announce Dabbers is now opening a second venue in Hackney. I can't wait to put bingo back on the Hackney map, as the borough's only venue dedicated to the game." JONNY UNKNOWN | CREATIVE DIRECTOR 
Dabbers Social Bingo Hackney opens to the public on 18th November 2022. Bookings can be made directly on their website: https://dabbers.bingo/.