News
CPI Presents the Future of Payment for Gaming at G2E
Crane Payment Innovations (CPI), a Crane Co. company, made full use of the G2E Las Vegas show to present its latest technology for both cash and cashless payment. The SC Advance™ took centre stage alongside the Easitrax Connect™ platform, in addition to the all-in-one cashless device, Alio.
The SC Advance™ continues to play the most crucial role for CPI in the gaming industry. With over 2 million units in the field, the SC Advance™ has proven how important it is to have a bill reader that can be completely relied upon. The bill reader is the port of entry for the player, activating game play. Excellent first-time acceptance rates of all types of valid notes heightens the player experience—SC Advance provides this with the fastest acceptance rates in the industry. Operators appreciate the fact that the SC Advance™ is practically maintenance free with the lowest jam rate levels in the industry.
Today, through the integration of Easitrax Connect, CPI enables operators to manage their casino floor more efficiently, attaining real-time information on all their SC Advance™ bill readers in operation. This enables the operator to better manage the casino floor. The drop can be managed to ensure that no full cashboxes negatively affect machine play because Easitrax Connect will send a real-time warning as the cashbox volume approaches capacity. Any suspicious note activity is immediately registered, enabling operators to react immediately. Maintenance issues can also be prevented before they even occur, helping to eliminate machine downtime. Commercially released only seven months ago, already over 12,400 slot machines in two continents have been connected with Easitrax Connect™.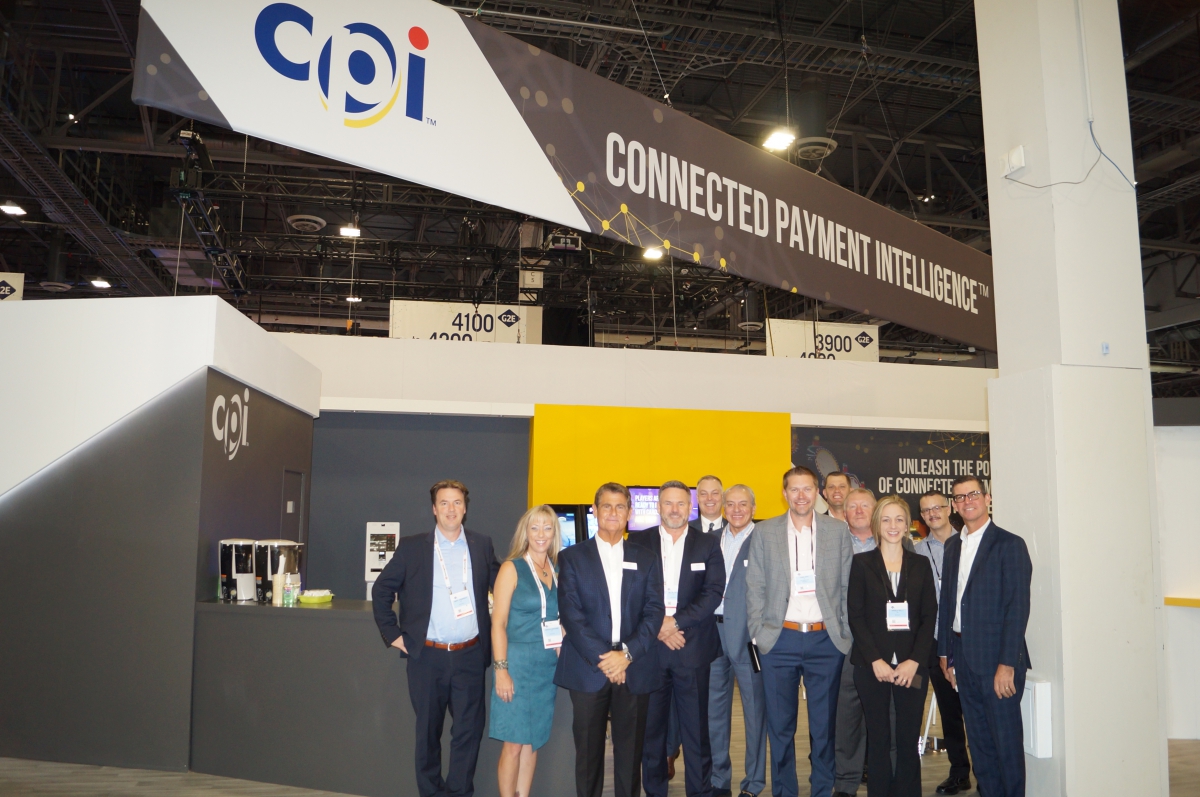 Image: The CPI team at the G2E show
With the rising demand for cashless payment in the gaming space, CPI introduced at G2E its new all-in-one cashless payment device, Alio. Allowing for all types of cashless payment types, Alio is equipped for magnetic swipe, chip, contactless enabling card, mobile and NFC payments. Built to last with a Gorilla® glass screen the rugged and robust design is suited for both indoor and outdoor applications. The Alio reader is available with both 3.5" and 4.3" pin on glass, high-resolution touch screen display variants.
CPI is bringing the reality of cashless for gaming to life with integration of cashless solutions into ticket-in, ticket-out (TITO) kiosks and games. Players using a 3rd party mobile application paired to CPI technology can pay for play with their digital wallet. Cashless payment is still new to the gaming world, but is set to meet player expectations of being able to pay with whatever methods they desire just as they expect at a store, taxi or unattended machine.,
"CPI is helping to define the future of cash and cashless payment systems—systems built to add value and offer the best return on investment in the market," commented Eric Fisher, President of Gaming at CPI. "The connectivity of our solutions," continued Fisher, "gives all the more reasons to choose CPI. We see ourselves as a solutions company with deep market understanding that enables operators to further streamline their business, thus increasing their profitability",
About CPI
Crane Payment Innovations (CPI) provides a full range of unattended payment solutions for Gaming, Retail, Transportation, Vending and Financial Services applications. CPI is built upon the technological heritage and market expertise of the NRI, CashCode, Telequip, Money Controls and, most recently, MEI and Conlux brands. CPI works in partnership with valued customers to enhance its portfolio of high-quality payment solutions – from coin and bill processing to cashless systems and asset management software. CPI is headquartered in Malvern, PA with additional offices, manufacturing facilities, distribution and service centers worldwide. The company holds one of the world's largest installed bases of unattended payment systems.  For more information, visit www.CranePI.com.
Crane Co. is a diversified manufacturer of engineered industrial products.  Crane Co. is traded on the New York Stock Exchange (NYSE:CR).