Articles
The Bingo Association – AGM 2019
The Bingo Association AGM this year was ousted from its regular venue, the Hippodrome Casino, by the very popular live show Magic Mike, that is in residence through to 4th January 2020. Forced to find a new venue, the Association elected to move east, to the City of London and Salters Hall.
The Salters' Company, originating from 1394, is one of the Great Twelve City Livery Companies, ranked number nine in the order of precedence: • Mercers • Grocers • Drapers • Fishmongers • Goldsmiths • Merchant Taylors • Skinners • Haberdashers • Salters • Ironmongers • Vintners• Clothworkers
Livery companies are descended from the medieval trade guilds and are now largely social and charitable organisations of which there are some 110 in the City of London. In medieval times The Salters' Company members were salt traders, involved in the preparation of chemical mixtures for use in food. Nowadays they are involved in several charitable foundations, philanthropy and science education. The company's flagship charity, The Salters' Institute, is one of the country's leaders in the field of science curriculum development with the aim to promote the appreciation of chemistry and related sciences among the young.
Salters' Hall is home to a national collection of domestic saltcellars and its pieces can be viewed by special arrangement. Salt has always been an important element of life, and has served as currency at various times and places. Thus saltcellars became a status symbol – those who could afford salt kept it in a container; at events guests were seated above or below the salt according to their position in society – no such seating plan was necessary for the Association's AGM which took place on Thursday 16th May.
In keeping with previous AGMs the formal part of the meeting was closed, with presentations given after lunch by invited speakers. This year's speakers were Ben Haden from the Gambling Commission, Sean O'Neil from Bedfordshire Police, Howard Gant from IHL, and Noreen Kinsey and Nia Turner from MMR Research.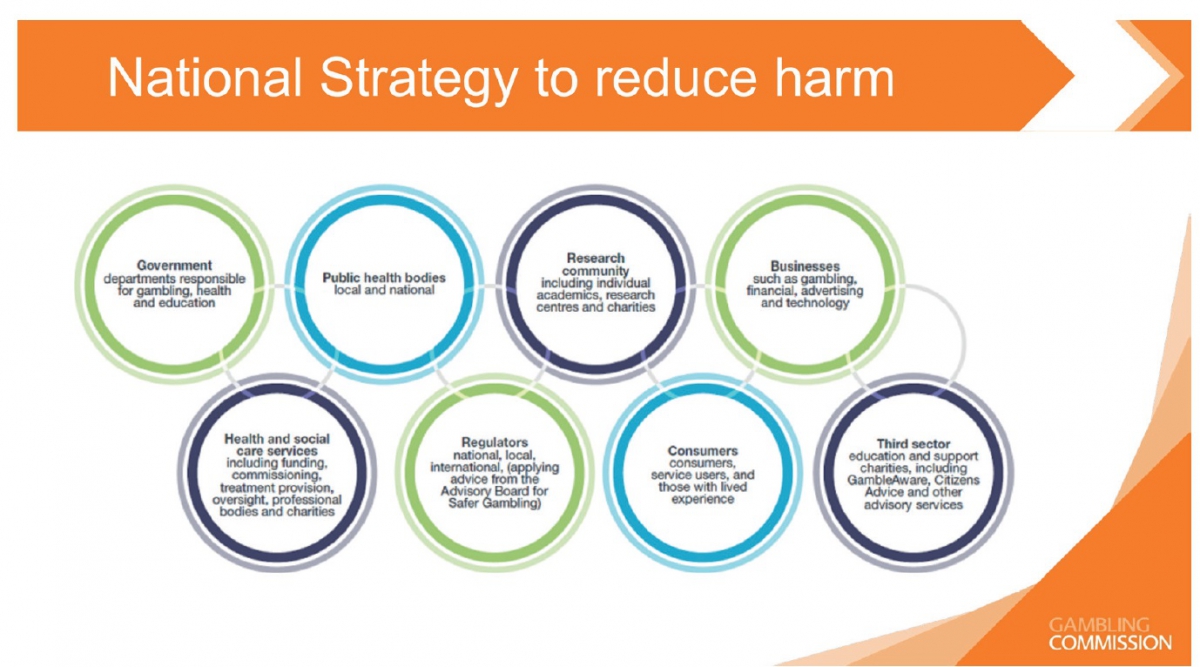 Programme Director Ben Haden from the Gambling Commission was the first speaker after lunch, whose presentation was titled 'communicating safer gambling messages to low and moderate-risk consumers'. The issues of social responsibility and prevention of gambling related harms are familiar long standing topics for the bingo and broader gambling industry. Haden, who had previously been looking after the National Lottery, welcomed the opportunity to engage with the industry as the Commission wished to obtain the best information possible on how the industry works and operates, including insights into consumer behaviour: working collaboratively with the sector would be the best way to obtaining accurate and meaningful information. Haden went on to set out the National Strategy to reduce harm, showing how eight key areas all interconnected.
Key aims for 2019 would remain:
1. Protecting the interests of consumers, focussing on machines: categories B, C and D
2. Raising Standards: establishing best practice and taking action against operators who fail to meet minimum standards
3. Engagement process for fourth lottery licence.
While the themes and areas presented were not new, some clarity was given as to how the Commission was evolving its thinking in these areas:
• KYC – looking at ways to use the information held about customers to give greater clarity on what should trigger interaction, when and how.
• Understanding consumer perceptions: a key strand of work in this area would be to explore more fully consumers' perceptions of gambling activity and perceptions of their own gambling activity in differing behavioural states.
• Developing approaches: seeking engagement not just with compliance teams, but also marketing and research teams – to inform understanding and obtain insights.
• Evaluation: essential, but need not necessarily be complicated.
• Developing messaging: there is currently no standard iconography for messaging and language used is key:
• Be concise
• Where possible be visual
• In tone be: human, empowering and reassuring
While bingo was acknowledged as being a minimal cause of harm its role on connecting with customers, particularly in land based venues, was seen as important in reaching gamblers who may be at risk. Haden also acknowledged that the bingo sector had been quick to start developing and testing safer gambling messaging and that he looked forward to seeing the evaluation of the latest pilot activity.
As part of the collaborative approach to messaging development a working group of three Commission representatives, twelve customers and six operators had already been held – although details of the participating operators were not disclosed he did encourage those in the room to volunteer for future groups.
Next to address delegates was Sean O'Neil, Fraud and Cyber Security Advisor from Bedfordshire Police. This was perhaps a surprising speaker for many, as regular users of IT we may not consider ourselves susceptible to mandate fraud or phishing scams, nor be particularly vulnerable as such. However, this section produced the largest number of delegate questions with the two key reminders being to backup regularly and never use open WiFi networks to transmit sensitive or security related information.
Howard Gant from IHL then gave a presentation on bridging the gap between the gaming machine landscape and an increasingly cashless society: payment solution Two Cherries may well be part of the solution.
Following a short networking break for coffee, Association Chief Executive Miles Baron introduced Noreen Kinsey and Nia Turner from MMR Research, who have been retained by the Association to monitor and research a range of key consumer issues. As this was the first round of research from the programme the results set a benchmark for going forward. This first tranche of research revisited some familiar territory, like reasons why people play (56% social, 50% excitement of winning, and 43% chance of winning) and the age-old balance between players wanting large prizes and increased chances of winning. In exploring why players lapse, the most common reason was no longer having anyone to go with. The new area was the question of impact of Brexit and Universal Credit: while Brexit had little impact on players' behaviour, changes to Universal Credit had seen a drop in spend for some. MMR invited members to suggest areas for future consideration in research.
Chief Executive Miles Baron closed the day's proceedings inviting all to join him at the post AGM drinks reception, also held in Salters Hall.