Articles
BINGO all the way:Leisure Electronics / Wexel Gaming return to the Bingo Pavilion for ICE 2019
Chris Shipley Sales & Projects Manager at Leisure Electronics Ltd & Wexel Gaming chats to Bingo Life 
For Leisure Electronics and Wexel Gaming, ICE offers a very a different visitor demography to EAG, covering a much broader audience in terms of the markets it caters to and creating a great opportunity for both companies to showcase products and connect with other sectors, such as online, betting, bingo, etc. Factoring in international delegates attending the show, the audience becomes huge.
We caught up with Leisure Electronics Chris Shipley. "We'll be maintaining our core strengths of offering low-cost digital platforms and hardware: our main focus will continue with the bingo markets where our historical expertise stems from." Chris continued, "The last twelve months have been about designing and manufacturing equipment that can increase dwell-time for bingo operators, whilst keeping operating and labour costs down. Our linked bingo product, Bingo Plus, is very successful at this and can now be played in all the major cities across the UK: it is, and will continue to be, the 'go to' high street bingo product for operators. We can already see the growth for Bingo Plus in the early part of 2019, and we're confident that based on its performance, this is set to continue.
"To enhance our ever-expanding linked bingo product we've introduced our Bingo Plus TAB: based on the operational aspects of our popular GTAB kiosk, this is a product that allows the operator to offer players the opportunity to engage in the linked games by means of a handheld tablet. This benefits locations where space is at a premium and where operators of sites do not have the luxury of being able to offer our fixed-base 22" screen positions."
Complimenting the Leisure Electronics / Wexel bingo products, the ever popular GTAB self-service tablet kiosk continues to provide great Cat C & D slot content. The team find working with customers rewarding, as interaction and involvement helps to ensure products are continuously developed that meet market needs, generating positive responses to the product.
Wexel have committed heavily to development, both in terms of software and hardware, over the last five years: the competitive nature of the bingo market makes for challenging trading, but does breed creativity where supported.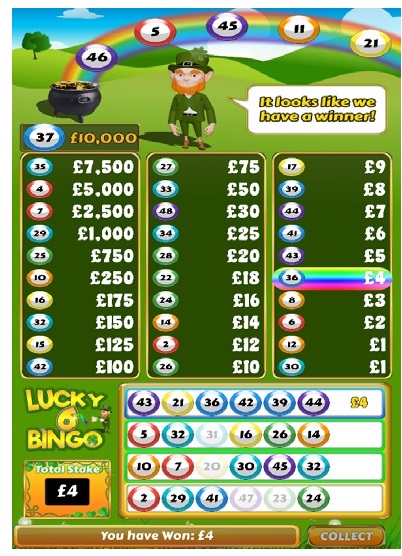 Leisure Electronics / Wexel are committed to rolling out some new community based bingo games on to the Bingo Plus platform in 2019, to keep the product fresh and players engaged. Chris comments, "Our primary goal is to give players the opportunity to play bingo, or bingo-type games, whenever it suits them, like they can on-line. We do this to a certain extent already, but we need to keep broadening the window of play so that bricks and mortar bingo can work alongside the online offering availability."
The latest bingo variant release, Lucky 6, is available both as a stand-alone and a community game. Players can select up to 4 sets of six numbers from 49 numbers during the countdown, and then wait to see how many of their numbers match from the random 36 drawn out: there are 4 stakes of 10p, 25p, 50p or £1 and prizes can go as high as £10,000. With 31 cash prizes available on each draw this adds to the excitement and is proving very popular in premises where the game is currently offered.
Interview originally published in the February 2019 edition Bingo Life magazine